Written by UConn Dietetics student Anastasia Stergos
Spring is finally here! The days are getting longer, the weather is getting warmer, and the produce will soon be from more and more local sources. So many great vegetables are in season during spring in CT- asparagus, broccoli, crisp lettuces, green beans, and peas- just to name a few. Now you may be asking yourself, what exactly are the benefits of eating produce during its peak season?
Top Five Benefits:
Full of nutrients– Produce begins to lose nutrients right after harvesting. When it is in season, there is less transportation required meaning more nutrients are being retained. Seasonal produce also provides the vitamins and minerals that are needed for each respective season. For example, in the fall and winter, produce is loaded with vitamin C to boost our immune systems.
Cheaper- When produce is at the peak of its supply, it is sold at a much lower price because there is less traveling and fewer storage costs. During the off season, produce needs to be transported from other regions of the world, which can be expensive and therefore consumers end up paying for the transportation cost. 
Supports local businesses and farmers- Late spring is the perfect time to visit a farmers' market. Most of them in CT begin to open in late May/ early June. Eating local produce also helps support your local economy, which is especially important to do during this pandemic as many small businesses are struggling. Springtime is also the time to engage with your favorite farm to inquire if the farm will offer a CSA over the summer. CSA (Community Supported Agriculture) is a food production and distribution system that directly connects farmers and consumers. Farmers earn important early- season capital and have a guaranteed market for their produce. Consumers enjoy overall lower food costs, field fresh produce, and greater access to high-demand fruits and vegetables1. Some CSAs offer more than fruits and vegetables. Some CSAs offer more than fruits and vegetables. Eggs, flowers, honey and even poultry and other meats can be part of a CSA program.
Better taste- There is much less transportation being done meaning you are getting the produce at peak ripeness and freshness. Just think about how much better those fresh strawberries taste in May versus in the dark winter months.
Allows for creativity in the kitchen- Rather than buying the same produce and making the same meals over and over again, use this as an opportunity to try out new foods. Pick up some fresh, local foods that are in season and use them in new recipes.
Here is a colorful, light, yet delicious recipe to try out this season utilizing some of those fresh veggies!
Spring Orzo with Asparagus, Lemon and Dill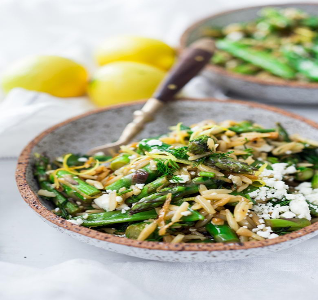 Ingredients
6-7 oz orzo
2 tbsp olive oil
1 shallot, diced
3 garlic cloves, roughly chopped
1 large bunch of asparagus, cut into 1-inch pieces
1 cup snap peas
½ – ¾ tsp salt and pepper
2 lemons
½ cup fresh dill
Crumbled feta (optional for vegan)
Instructions
Set salted water to boil and cook orzo according to package
In a large skillet, heat oil over medium heat
Add chopped shallot and garlic. Stir frequently and saute until browned and fragrant
Add asparagus and snap peas. Saute for 5-7 minutes and stir often, making sure to scoop shallot up from the bottom. Add salt and pepper. Cook until asparagus is bright green and a still a bit crisp. Turn heat off and add zest from one lemon.
Drain pasta (if serving warm, save some of the water)* Add the warm orzo to the skillet with the asparagus and a little bit of pasta water to loosen. Add a generous squeeze of lemon juice.
Fold in fresh dill and sprinkle with feta
*NOTE* if serving chilled- place cooked asparagus in a bowl to cool. Rinse orzo with cold water to cool. Drain and add to bowl. Drizzle with olive oil and lemon juice. Refrigerate. Fold in dill and sprinkle feta right before serving.
Citations:
Fountaine, S. (2017, April 7). Spring Orzo with Asparagus, Lemon and Dill. Retrieved from
https://www.feastingathome.com/spring-orzo-with-asparagus-lemon-and-dill/#tasty-recipes-20230-jump-target
This material is funded by USDA's Supplemental Nutrition Assistance Program (SNAP).
This institution is an equal opportunity employer.