Written by UConn Dietetics Student Jody Smith
An organized, stocked pantry can assist your efforts to eat a healthy diet, come up with last-minute meals, save money, and can function as an emergency food stash if there is a storm that takes out the power. Pantries can easily turn into something like a junk drawer, full of mystery items that you don't often go through! But, let's clean out your pantry!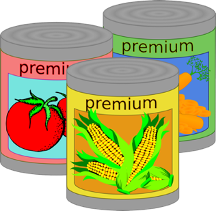 Unpack Your Pantry: Cleanout Steps1,2
Take everything out…yes, everything!
Review each product and check all product "use by" dates
Sort into piles: Keep; Trash; Donate; Compost
Clean all pantry shelves with soapy water and wipe off containers
Organize and store like items together: Rices with other grains; pasta in one place; canned veggies next to canned fruits.
Place items in order of use – Older dated items in the front to be used first.
Restock (look below for tips!)
Pantry Basics: Things to Consider1,4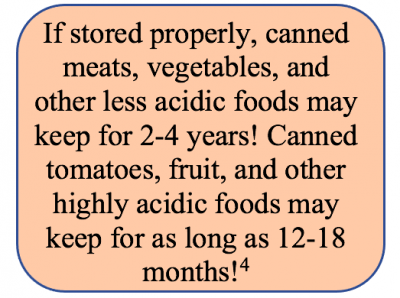 No two pantries are exactly alike, and everyone has different storage capacity, but there are a few general guidelines to optimize your pantry
"space" (or cupboards) for storing food.
Keep it dry, dark, & cool
A pantry or cupboard system at cooler temperatures (ranging between 50°F-70°F) helps maintain the quality of foods, especially those with a long shelf life. Many unopened canned foods are safe to eat past the date printed on the can if stored properly!
Always rinse or wipe off your canned product tops/lids before opening to make sure no dust sneaks inside.

Center for Disease Control (CDC):  the risk for contracting COVID-19 from food packages is considered very low, but you should always wash your hands with soap and water after shopping, handling food packages, and before preparing and eating food. Use disinfectants regularly to clean counters, but do not use disinfecting products on food or food packaging.3 
Dry foods like pasta, cereal and rice should be kept in dry, airtight containers. Metal, glass, or plastic containers are the best choices to maintain food quality and can be found at a variety of stores (Walmart, Target, Amazon, Dollar General).
Re-Pack Your Pantry: Restocking Tips5
Now that your pantry is clean, and wiped down, it's time to restock! Think about what you cook most often and what ingredients you usually use. It's always good to start with the basics. Here are a few ideas:
Spices and herbs for easy reach when cooking: oregano, basil, salt, pepper
Dry pasta; grains in boxes; rice; couscous; cereal
Sauces in jars: tomato sauce, hot sauce, soy sauce (once opened ,refrigerate!)
Spreads in jars: peanut butter, jelly, jam
Oils
Veggies that need no refrigeration (keep dry, dark, cool): onions, potatoes, garlic
Canned foods: tuna, beans, corn, peas, fruits
Baking ingredients: flour, sugar, baking powder/soda, yeast, vanilla
Coffee, tea
Now that your pantry is stocked, try this chili recipe with some of those pantry staples!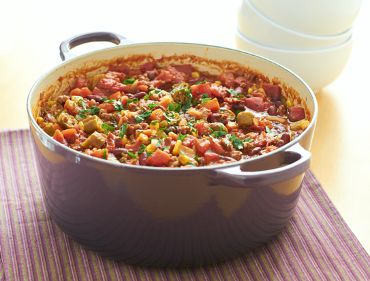 The Easiest Chili Recipe Ever6
8-10 servings
Ingredients:
2 14-oz cans ranch style pinto beans, do not drain
1 14-oz can black beans, drained and rinsed
1 14-oz can white beans, do not drain
1 14-oz can tomato sauce
1 14-oz can diced tomatoes
1 14-oz can fire roasted tomatoes with green chile
1 7-oz can chopped green chiles
1 14-oz can yellow corn, drained
2 tablespoons Mexican spice mix or taco seasoning
Optional: 2 lbs meat of your choice cooked
Toppings (optional): shredded cheese, sour cream, green onions, corn chips
Stove-Top Instructions:
Combine all ingredients in a large pot
Bring to a simmer over medium-low heat
Cover with lid and simmer, stirring occasionally for 2-10 hours (recommended)*
Serve with toppings of your choice and enjoy!
*You can also bring the chili to a boil, simmer for 15 minutes and then serve.
Crock-Pot Instructions:
Combine all ingredients in a large crock-pot
Cook on low for 8-12 hours
Serve with toppings of your choice and enjoy!
Citations:
Bold, C. (2019, May 02). The Kitchn CURE DAY 12: Clean and organize your Pantry shelves. Retrieved from
https://www.thekitchn.com/the-kitchn-cure-day-12-clean-and-organize-pantry-shelves-the-kitchn-cure-fall-2014-205701
Clifford, A. (2021, March 13). The best way to clean out your pantry. Retrieved from https://www.housebeautiful.com/room-decorating/kitchens/a31704388/pantry-cleaning-checklist/
Food and Coronavirus Disease 2019 (COVID-19). (n.d.). Retrieved from https://www.cdc.gov/coronavirus/2019-ncov/daily- life-coping/food-and-COVID-19.html
Klemm, R. (n.d.). Food storage safety tips for the cupboard. Retrieved from https://www.eatright.org/homefoodsafety/four-steps/refrigerate/food-storage-safety-tips-for-the-cupboard
Olmanson, S. (2012, July 16). Stocking your pantry for success. Retrieved from https://simplebites.net/stocking-your-pantry -for-success/
The easiest (AND Tastiest!) chili Recipe ever. (2021, January 23). Barefeet in the Kitchen. Retrieved from https://barefeetinthekitchen.com/easy-chili-recipe/
This material is funded by USDA's Supplemental Nutrition Assistance Program (SNAP).
This institution is an equal opportunity employer.