Written by UConn Dietetics Student Leah Pfrommer
You've probably heard bits and pieces of information about the Mediterranean Diet, but what is it all about? For the third year in a row this diet has garnered the top spot because it's simply about eating healthy, increasing healthy fats, and maintaining a well-balanced diet. More specifically, this diet involves high intake of fresh fruits and vegetables, nuts, fish, and extra-virgin olive oil (EVOO) coupled with physical activity. But why is this desirable?
Here are the top 5 reasons why:
May reduce the risk of cardiovascular disease, cancer, and improve cognitive health1
Research indicates that the Mediterranean diet may improve cholesterol, blood sugar levels, and overall blood vessel health, which can reduce your risk for cardiovascular disease as well as Alzheimer's disease or dementia.
May help prevent heart disease and stroke
The Mediterranean diet boasts high intake of extra-virgin olive oil, a fantastic source of antioxidants and healthy fats (monounsaturated fats) which could help reduce your risk of heart disease by lowering your "bad" LDL cholesterol levels and raising your helpful "good" cholesterol, HDL. EVOO also has antioxidant and anti-inflammatory properties which add benefits beyond cholesterol lowering 2. Also, following this diet limits your intake of refined breads, processed foods, and red meat. It also encourages drinking red wine instead of hard liquor. According to the Dietary Guidelines for Americans for 2015-2020, the U.S. Department of Health and Human Services and U.S. Department of Agriculture recommend moderate drinking up to 1 drink per day for women and up to 2 drinks per day for men 3.
May cut the risk of Parkinson's disease in half
The Mediterranean diet includes consumption of high levels of antioxidants which can help to prevent cells from undergoing a damaging process known as oxidative stress. This cuts the risk of Parkinson's disease in half.
May help prevent some cancers
Due to the combination of foods rich in antioxidants and anti-inflammatory nutrients, the Mediterranean diet has been linked to reducing the risk of various cancers. The diet is considered a powerful and manageable method to lower relative risk of many cancers 4.
May increase longevity
Who doesn't want to live a long, healthy life? By reducing your risk of developing heart disease and stroke you're already reducing your risk of death at ANY age by 20%.
Here's  a salad recipe that includes lots of fruits and veggies, nuts, fish and EVOO!
Vegetarian Arugula Chickpea Power Salad
Ingredients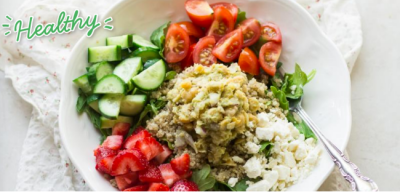 1 15-ounce can no-salt added chickpeas beans
1 large ripe avocado, pitted and diced
1/4 cup diced red onion
1 tablespoon lemon juice
Salt and freshly ground black pepper
1 cup arugula
1/4 cup sliced cucumbers
1/4 cup cooked quinoa
1/4 cup sliced strawberries
1/4 cup sliced cherry tomatoes1 tablespoon crumbled feta
Balsamic vinegar, for drizzling, optional
Directions
Rinse and drain the chickpeas. In a medium bowl, combine the chickpeas and avocado, and roughly mash with a fork or potato masher. Add the onions and lemon juice. Season with salt and pepper. Stir to combine thoroughly.
Serve 1/2 cup of the chickpea salad on a plate with the arugula, cucumbers, quinoa, strawberries, tomatoes, feta and a drizzle of balsamic vinegar. Enjoy!
Reserve the remaining chickpea and avocado salad for another purpose.
Recipe courtesy of Min Kwon, MS, RD
Citations
Davis, C., Bryan, J., Hodgson, J., & Murphy, K. (2015). Definition of the Mediterranean Diet; a Literature Review. Nutrients, 7(11), 9139–9153. https://doi.org/10.3390/nu7115459
Kormos, William, M.D. (2013). Is Extra-Virgin Olive Oil Extra Healthy; Harvard Men's Health Watch. https://www.health.harvard.edu/staying-healthy/is-extra-virgin-olive-oil-extra-healthy
Drinking Levels Defined. Accessed @ https://www.niaaa.nih.gov/alcohol-health/overview-alcohol-consumption/moderate-binge-drinking . Accessed on November 10, 2020.
Mentella, M. C., Scaldaferri, F., Ricci, C., Gasbarrini, A., & Miggiano, G. (2019). Cancer and Mediterranean Diet: A Review. Nutrients, 11(9), 2059. https://doi.org/10.3390/nu11092059
This material is funded by USDA's Supplemental Nutrition Assistance Program (SNAP).
This institution is an equal opportunity provider.