Article by Kate Walder, UConn Coordinated Program Dietetics Student

Interested in cultural cooking? Let's explore what has influenced Israeli food culture, typical ingredients and meals, and the many health benefits of eating Israeli-style. To top it off, recipes are included so you can make some Israeli staples from your own kitchen!
Israel's culinary tradition has been shaped by both religious and geographical influences. The food culture of ancient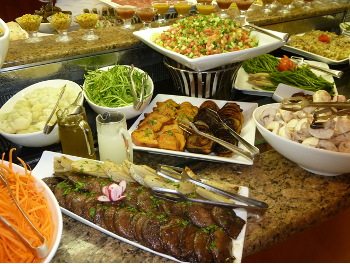 Israeli Jews revolved around seven main foods: wheat, barley, grapes, figs, pomegranates, olives, and dates. Mediterranean influence has brought tomatoes, eggplants, zucchini, and chickpeas to the table. Arabic and Middle Eastern influence has brought za'atar, one of the main spices used, as well as falafel (fried chickpea patties) and hummus (a creamy chickpea dip), both considered Israeli staples. Modern Israeli cuisine has also been shaped by the immigration of Jews from all over the world, each bringing unique culinary traditions.
So what's cooking on the stove of a typical Israeli home? Israeli cuisine uses vegetables, cooked and raw, many fruits, and dairy in the form of cheese and yogurt. Chicken, fish, and lamb are common animal proteins. Grilled kebobs and shawarma (meat cut into thin slices) are typical ways that Israelis prepare meat. Pita bread—often made fresh—is dipped in sauces and stuffed with falafel. Challah bread, which has Jewish roots and significance, is often made for holidays. Another dish unique to Jewish heritage is cholent, a vegetable and potato stew that is prepared overnight which allows Jews rest on their weekly holy day. Vegetable salads are popular and use cucumbers, tomatoes, peppers, and radish, as well as herbs like mint or parsley. Besides hummus, other dips such as tahini (a paste made from ground sesame seeds), baba ghanoush (made from eggplant), and chili-based sauces are found at meals. Israelis enjoy dessert, too. One of the most popular is Baklava, which uses phyllo dough and is filled with nuts.1
Besides being absolutely delicious, Israeli cuisine has many health benefits. Adding more fruits and vegetables to your diet is protective against chronic disease, helps control weight because they are low in calories, and reduces relative risk of some cancers. Another staple—chickpeas—contain protein, folate, fiber, iron, phosphorus, and unsaturated fats. A legume, they are a very healthy addition to the diet and may be protective against many chronic diseases including diabetes and heart disease. The soluble fiber in chickpeas also provides benefits for gut health, weight control, and satiety.2 (Remember: take care when adding fiber to the diet if that's new for you. Add small amounts and increase your water intake too).
You, too, can experience both the tasty dishes and health benefits of Israeli food culture.
Below are two recipes, one for a vegetable salad and another for homemade hummus. Let's get cooking! 
Israeli Vegetable Salad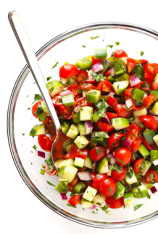 3 bell peppers: 1 green, 1 red, 1 yellow
2 tomatoes
1 onion
1 cucumber
Salt and freshly ground pepper to taste
Juice of 1 lemon
2 cloves garlic, minced
3 tablespoons olive oil
1/2 teaspoon ground sumac or za'atar (optional)
Remove the pith and seeds from the peppers and dice them along with the tomatoes, onion, and cucumber. Toss together in a wooden or ceramic bowl.
In a separate small bowl, stir together the salt, pepper, lemon juice, and garlic. Slowly whisk in the olive oil. Pour over the vegetables, mix, sprinkle with sumac or za'atar, and serve.
Hummus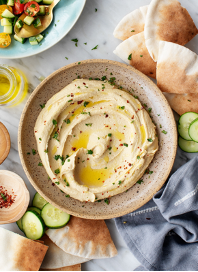 1 (15-ounce) can chickpeas or 1 1/2 cups (250 grams) cooked chickpeas
1/4 cup (60 ml) fresh lemon juice (1 large lemon)
1/4 cup (60 ml) well-stirred tahini
1 small garlic clove, minced
2 tablespoons (30 ml) extra-virgin olive oil, plus more for serving
1/2 teaspoon ground cumin
Salt to taste
2 to 3 tablespoons (30 to 45 ml) water
Dash ground paprika or sumac, for serving
In the bowl of a food processor, combine tahini and lemon juice and process for 1 minute, scrape the sides and bottom of the bowl then process for 30 seconds more.
Add olive oil, minced garlic, cumin, and a 1/2 teaspoon of salt to the mixture. Process for 30 seconds, scrape the sides and bottom of the bowl then process another 30 seconds or until well blended. Open, drain, and rinse the chickpeas. Add half of the chickpeas to the food processor and process for 1 minute. Scrape sides and bottom of the bowl, then add remaining chickpeas and process until thick and quite smooth; 1 to 2 minutes.
Slowly add 2 to 3 tablespoons of water until you reach the perfect consistency.
Taste for salt and adjust as needed. Serve hummus with a drizzle of olive oil and dash of paprika. Store homemade hummus in an airtight container and refrigerate up to one week.
Photo credits:
https://www.gimmesomeoven.com/israeli-salad/
https://www.loveandlemons.com/hummus-recipe/
Citations:
Miller, S. (2020, July 8). Beginner's Guide to Israeli Cooking. Retrieved from Simply Recipes: https://www.simplyrecipes.com/beginners_guide_to_israeli_cooking
Chickpeas (Garbanzo Beans). Retrieved from Harvard T.H. Chan School of Public Health: https://www.hsph.harvard.edu/nutritionsource/food-features/chickpeas-garbanzo-beans/
This material is funded by USDA's Supplemental Nutrition Assistance Program (SNAP).
This institution is an equal opportunity provider.