Written by UConn Dietetics Student Natalie Ranelli
As the weather gets colder, its finally time to head inside and turn on the stove again! Nothing seems better on a crisp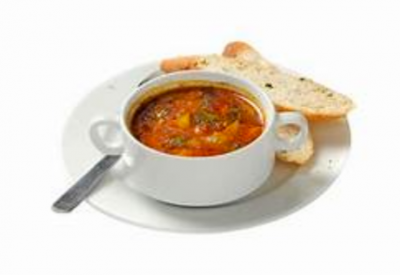 autumn day then a bowl of warm delicious soup. You can make up your own recipe or follow one from your favorite recipe book or Internet site. Soups are so versatile. You can add any protein you want- have leftover chicken? Add it! Try lean ground beef or ground turkey to add to chili! Don't like meat? Try canned or dried beans! Add fresh, frozen, or canned veggies! You can tailor your soup to what is in season in the Fall- like pumpkin, cauliflower, or butternut squash or whatever veggies you already have on hand. Soups are great to make ahead of time as they store well in the fridge.
You can even freeze the leftovers or better yet
make a double batch and freeze half of it for a quick weeknight dinner.
Just thaw, warm on stove or in microwave. Add a small side salad and a
whole grain roll and you've got a complete meal!
If you have a slow cooker, they are a great way to make soups and stews! Follow your recipe
but usually a simple prep of your ingredients, adding liquids to the slow cooker, stirring, covering and cooking on low for 5-6 hours does it! That way you can prep in the morning and have a nice, hot meal waiting for you in the evening.
Tips for freezing soups:
Frozen soups last up to 2-3 months in the freezer.
Try dividing the soup up into small single serve freezer containers, leaving about one inch of space from the soup to the lid. This will make sure it freezes evenly and you have a better soup later.
Soups that are broth based (not cream based) will freeze better.
If you make a noodle soup, wait until after you thaw and reheat to add cooked noodles.
Consider thawing soup in the fridge the night before you want to eat it, this way it will reheat better
Here are some great recipes from choosemyplate.gov/myplatekitchen that will keep your family full and warm all season long!
Pumpkin Soup
Get pumped for this pumpkin soup. This soup pairs well with a spinach salad topped with a scoop of tuna or egg salad.
Ingredients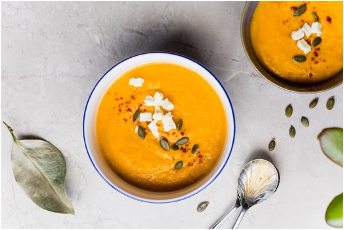 1 can white beans 

(15 ounce, rinsed and drained)

1 onion 

(small, or 2 tsp. onion powder)

1 cup water
1 can pumpkin 

(15 ounces, plain)

1 can chicken or vegetable broth, low-salt 

(14.5 ounces)

1/2 teaspoon thyme 

(or tarragon)

salt and pepper 

(optional, to taste)
Directions:
Blend white beans, onion, and water to make a puree.
In a soup pot, mix bean puree with pumpkin, broth, and spices.
Cover and cook over low heat about 15 to 20 minutes until warmed through.
Beef and Vegetable Soup
Looking for a wholesome, delicious meal? Look no further than this Beef and Vegetable Soup, featuring canned beef broth, carrots, green beans and stewed tomatoes.
Ingredients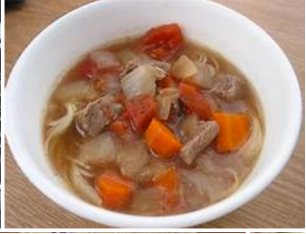 1 tablespoon vegetable oil
1 pound lean ground beef
1 medium onion, diced
2 cloves garlic, minced
1 can low sodium beef broth (14.5-ounce can)
1 can sliced carrots, drained (14.5-ounce can)
1 can no salt added cut green beans (14.5-ounce can)
1 can no salt added stewed tomatoes (14.5-ounce can)
1 teaspoon dried basil
1 cup cooked egg noodles
Directions
In 4-quart saucepan over medium-high heat, in hot oil, cook ground beef until well browned on all sides, stirring frequently.
With slotted spoon, remove beef to bowl. In drippings remaining in saucepan over medium heat, cook onion and garlic until tender-crisp.
Add beef broth, carrots, green beans, stewed tomatoes, basil and ground beef; over high heat, heat to boiling.
Reduce heat to low; cover and simmer 10 to 15 minutes to blend flavors, stirring occasionally.
Stir in cooked egg noodles.
This material was funded by USDA's Supplemental Nutrition Assistance Program (SNAP).
This institution is an equal opportunity provider.