Written by UConn Dietetics Student Alison Soucy
Physical activity can do wonders for you and your health! Those who exercise are less likely to have diabetes, cardiovascular disease, some cancers, and obesity. Additionally, exercise strengthens bones and muscles, offsetting some of the loss that comes from aging and reducing the risk of bone fractures1. In addition to physical health, exercise is wonderful for your mental health! It can reduce anxiety and depression, and increase cognitive function1. Physical activity has been shown to improve self-esteem and reduce social withdrawal.2 Getting up and moving is a great way to boost your mood: either by having some much needed "you" time or spending quality time with friends and family!
Exercise in the winter?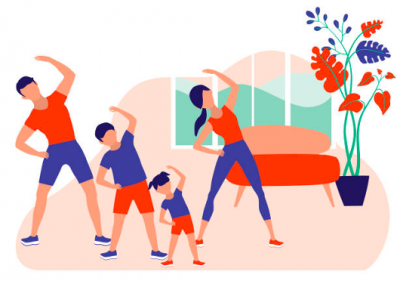 Exercise can seem like a daunting task in the winter when it is so cold and gets dark early, but there are still ways to be active and without spending a fortune! Prevent those winter blues3 and try some of the suggestions below to keep your body moving!
How to Keep Your Body Moving During the Winter
*Always check with your doctor before you start any new exercise plan!  
Try yoga or Pilates! They both work your abs, legs, arms, and test your balancing abilities. There are many free videos online, such as YogaWithAdriene 4 on YouTube!
You don't need to buy dumbbells to do weight training! Use bottles of shampoo/conditioner, water bottles, soup cans, or anything else you can find around the house. Start with doing simple exercises such as bicep curls or follow along with a video on Youtube.
After a fresh snow, shoveling your driveway is a great form of physical activity! Afterwards, try sledding or building a snowman with the family to keep yourself moving outside.
Involve your friends and family in your exercise routine. Try a Zoom workout session if you can't get together in person.
Try new things to keep yourself interested. Exercise doesn't need to be something you dread- find activities that you enjoy but also get your heartrate up. You may discover a new favorite workout routine after testing out some new exercises. Dance around the house; vacuuming the house keeps you moving; wash the car!
Citations
"Benefits of Physical Activity." Centers for Disease Control and Prevention, Centers for Disease Control and Prevention, 1 Nov. 2021, https://www.cdc.gov/physicalactivity/basics/pa-health/index.htm.
Sharma, Ashish et al. "Exercise for mental health." Primary care companion to the Journal of clinical psychiatry vol. 8,2 (2006): 106. doi:10.4088/pcc.v08n0208a
Dilsaver SC, Jaeckle RS. The naturally occurring rhythm of blues: winter depression. Ohio Med. 1990 Jan;86(1):58-61. PMID: 2405329.
"Yoga with Adriene." YouTube, YouTube, https://www.youtube.com/user/yogawithadriene.
This material is funded by UDSA's Supplemental Nutrition Assistance Program (SNAP).
This institution is an equal opportunity provider.