What are lentils?
Some of the most versatile and nutrient-rich pantry-staples are lentils, and they have been around for quite some time, back to 8000 BC in what is now modern-day Syria1. Since their initial usage, they have spread to many different areas across the globe and are prominent features of Middle Eastern and Indian cuisines, where half of the world's lentils are eaten. Lentils did not gain popularity in America, however, until World War II meat shortages caused consumers to be more flexible with their protein selection1.
There are many different varieties of lentils, all of which fall under three general categories: Brown, Green and Red2. 
Why should you eat lentils?
Lentils have a wealth of health benefits. One-half cup serving of cooked lentils provides 12 grams of protein, which is equivalent to about 2 eggs. Lentils are also able to provide 9 grams of fiber, which is about one-third of your daily need. The high fiber content helps increase fullness and has been shown to help decrease blood cholesterol levels. Additionally, lentils are a good source of the essential nutrients iron, potassium, and folate3.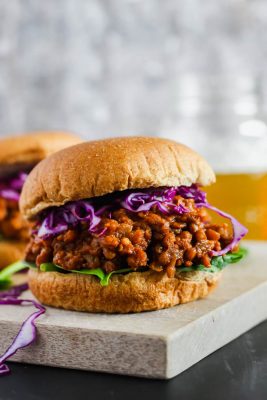 The best and easiest vegan sloppy joes3
1 cup uncooked green lentils
4 cups water
1 medium yellow onion, diced
1 medium green bell pepper, chopped small
2 garlic cloves, minced
3 tablespoons chili powder
2 teaspoons smoked paprika
(1) 15-ounce can tomato sauce
2 tablespoons ketchup (or tomato paste)
3 tablespoons yellow mustard
3 tablespoons pure maple syrup
1 teaspoons salt, or to taste
For serving: whole grain hamburger buns (optional: red onion)
Directions:
To cook the lentils: In a medium pot with a lid, add the lentils and water. Bring to a boil, then lower heat and simmer for 18-20 minutes or until tender. Drain excess liquid and set aside.

Heat a large skillet over medium heat. Once hot, add the chopped onion, green bell pepper and garlic. Use a few tablespoons of water, or vegetable broth, to saute and prevent burning. Stir constantly for 3-4 minutes, using more water as needed.

Add the chili powder and smoked paprika, and stir to coat the vegetables for about 1 minute. Add a little water if the vegetables appear too dry. Next, add the tomato sauce, ketchup, mustard and maple syrup. Stir until well mixed together. Add in the cooked lentils and stir. Add salt to taste. Serve on burger buns and enjoy!
Citations:
1.https://www.npr.org/templates/story/story.php
2.https://ohmyveggies.com/a-comprehensive-guide-to-lentils/
3.https://www.lentils.org/health-nutrition/nutritional-information/
4..https://www.noracooks.com/vegan-sloppy-joes/
This material is funded by UDSA's Supplemental Nutrition Assistance Program (SNAP). This institution is an equal opportunity employer.
Written by UConn Dietetics Student Laura Gilbert