Written by UConn Dietetics Intern Laura Scarfone
What is the DASH Diet?
 The DASH diet stands for Dietary Approaches to Stop Hypertension. The diet refers to an eating pattern designed to help prevent or treat high blood pressure (hypertension). The eating pattern focuses on whole foods higher in nutrients that have shown to lower blood pressure1. Those nutrients are – dietary fiber, potassium, calcium, magnesium and protein. The diet is lower in saturated fats, trans fat, cholesterol, added sugars and sodium1,2.
What Kind of Foods are Included?
The Dash Diet encourages ample fruits and vegetables, beans, nuts, seeds, whole grains, fish, poultry and low-fat or fat-free dairy products. It discourages foods and beverages with added sugars, sodium and the intake of large amounts of red meat.
How the Dash Diet can Work for You!1,2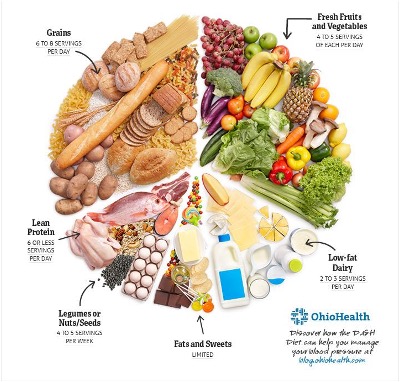 When choosing milk to buy, look for skim milk or low fat. Milk alternatives can also be a good choice especially for those with lactose- intolerance to cow's milk: (Almond, soy, oat).
Whole grains are all around us! Check out the ingredient label on your cereals, tortillas, crackers, bread and rice. The first ingredient should be "Whole Grain." Don't forget that foods like oatmeal, barley, farro, and quinoa are all highly nutritious grains!
Don't forget that frozen fruit or vegetables and even canned, all count toward the fruit and Veggie recommendations! These forms can be easier to use, less expensive to buy and last longer than fresh. A tip for canned veggies: rinse them well in a strainer under running water to eliminate about 40% of the sodium from the food. A tip for canned fruit in heavy syrup: rinse them well! The canned fruit still tastes delicious!
Experiment with spices or seasoning vegetables like onions, shallots, ginger or garlic to create flavor in a dish rather than adding salt.
Make your plate colorful with all different kinds of vegetables or fruit. 
Overall, eating the Mediterranean Diet way can be delicious. On the next page is an easy recipe for a yummy linguine with a sauce made from butternut squash! 
Recipe: Linguine with roasted butternut squash sauce3. Serves 6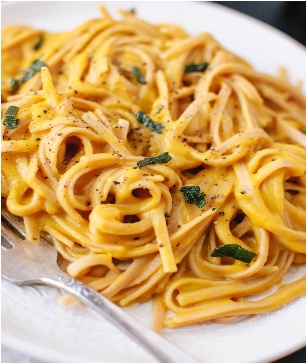 Ingredients:
1 medium butternut squash (about 2 pounds) split and seeded
2 tablespoons olive oil (divided)
12 ounces whole wheat linguine (or pasta of choice)
1 1/2 cups sodium reduced vegetable broth
1/4 cup diced yellow onion
1/2 cup chopped red bell pepper
2 cloves garlic minced
1 tablespoon cider vinegar
1/8 teaspoon nutmeg
Sage
Black pepper
Directions:
Heat oven to 400 F
Cut the squash and half. Brush the squash with 1 tablespoon olive oil and season generously with black pepper.
Place squash in the oven on a baking sheet and roast for 60 minutes or until soft.
Remove the squash from oven and let cool to room temperature
Scrape the inside of the squash from the outer skin and set to side until ready to make the sauce.
Pasta:
Bring a large pot of water to a boil.
Add the pasta and cook the pasta according to package instructions.
Sauce:
Put the cooked butternut squash into a large food processor or blender. Puree the squash until smooth.
Slowly add vegetable broth into butternut squash puree until the sauce reaches desired consistency.
Put it together:
In a small skillet, heat 1 tablespoon of olive oil over medium heat. Add the sage, onion and garlic. Sauté until soft, about 4-6 minutes.
Add the pureed butternut squash and season with vinegar, nutmeg, and more black pepper.
Add the pasta and stir until pasta is well coated.
Serve.
Tips:
Pureed butternut squash makes for a creamy sauce that is low in calories. Plus, butternut squash is an excellent source of vitamin A
If you want extra protein you can add chicken or use protein pasta.
Citations:
1.https://www.eatright.org/health/wellness/heart-and-cardiovascular-health/dash-diet-reducing-hypertension-through-diet-and-lifestyle
2.https://www.mayoclinic.org/healthy-lifestyle/nutrition-and-healthy-eating/in-depth/dash-diet/art-20048456
3.https://www.mayoclinic.org/healthy-lifestyle/recipes/linguine-with-roasted-butternut-squash-sauce/rcp-20135330
4. https://thecookreport.co.uk/butternut-squash-pasta-sauce/
This material is funded by UDSA's Supplemental Nutrition Assistance Program (SNAP).
This institution is an equal opportunity employer.