Written by UConn Dietetics Student Karah Lewis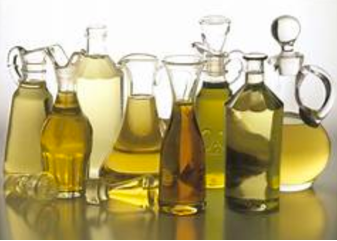 Unsaturated fats such as olive, vegetable, and canola oils are cooking staples in many households. These oils often sit on our shelves, ready to be used in our recipes and delicious dishes. They seem to last forever, right? To the contrary, if not stored properly, oils may go rancid.                                                                                   
Rancidity is the deterioration of fats and oils that causes unpleasant odors and less than desirable flavors1. This can occur from exposure to certain microbes as a result of poor food handling and hygiene1. More often oil rancidity occurs when oil is exposed to oxygen resulting in the formation of free radicals1. These free radicals contribute to the change in taste and smell of cooking oils. Despite the decrease in quality, rancid oil does not generally make a person sick if consumed1.
Many environmental elements in the household can cause oils to develop these free radicals:
Light- Sunlight or light from lamps support the production of free radicals1, 2.
Temperature- Higher temperatures increase the rate at which oil oxidizes2.
Time- Regardless of external factors, oil will go rancid eventually. It is good to use it in a timely manner. Opened containers of oil are best if used within 2-3 months while unopened oil is good for up to 4 months3.
Air- Make sure to place the cap back on the container tightly between uses1,2.
Keep your oil off the countertop and in a dark, dry location at room temperature. This will reduce the amount of light, heat, and air that increase the rate of rancidity described above1,2. It will also preserve the taste and smell. Additionally, purchase your oil packaged in dark or tinted containers. Make sure to not refrigerate your oils; moisture will also increase the rate of rancidity.
The oils we use most often fall into two categories of unsaturated fats. Monounsaturated fatty acids are found in olive, canola, and sunflower oils4. Polyunsaturated fatty acids are found in sunflower, soybean, and cottonseed oils4. Both decrease the risk of heart disease and stroke by reducing the levels of LDL, or "bad" cholesterol in the blood4,5. Omega-3 fatty acids specifically promote heart health by lowering blood pressure and risks of blood clots4.Olive oil is known to have one of the highest levels of monounsaturated fats5.
Make olive oil the star of your dish with this yummy chimichurri recipe.
It's great as a sauce or marinade for beef!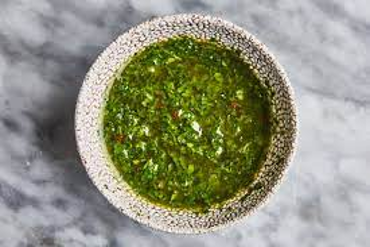 Chimichurri Sauce
Yield: 2 cups
Ingredients:                                                                          
¾ cup Extra virgin olive oil

1 Shallot, finely chopped

1 Fresno chile or red jalapeno, finely chopped

3-4 garlic cloves, thinly sliced or finely chopped

½ cup red wine vinegar

1 tsp kosher salt

½ cup finely chopped cilantro

BON APPÉTIT Photo By Alex Lau, Food Styling By Rebecca Jurkevich https://www.bonappetit.com/recipe/chimichurri-sauce-2

¼ cup finely chopped parsley

2 tbsp finely chopped oregano
Directions:
Combine shallot, chile, garlic, vinegar, and 1 tsp. salt in a medium bowl. Let sit for 10 minutes. Stir in cilantro, parsley, and oregano. Using a fork, whisk in oil. Transfer ½ cup chimichurri to a small bowl; season with salt and reserve as sauce. Place meat in a glass, stainless-steel, or ceramic dish. Toss with remaining chimichurri. Cover and chill at least 3 hours or overnight.
Citations:
Susan Okparanta, Victoria Daminabo, Leera Solomon. Assessment of Rancidity and Other Physicochemical Properties of Edible Oils (Mustard and Corn Oils) Stored at Room Temperature. Journal of Food and Nutrition Sciences. Vol. 6, No. 3, 2018, pp. 70-75. doi: 10.11648/j.jfns.20180603.11
This material is funded by UDSA's Supplemental Nutrition Assistance Program (SNAP).
This institution is an equal opportunity employer.