Written by: Dietetic Intern Caroline Parkes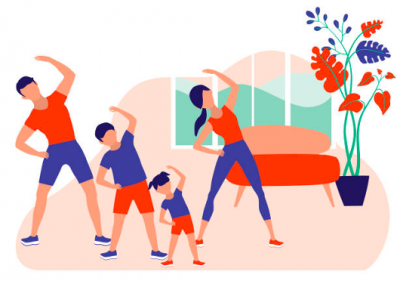 We are all so busy! We get so caught up in so many parts of our lives that sometimes our health can take a back seat. Your good health can mean losing some weight and the day-to-day choices can start with you. Here are some ideas:
1. Set a S.M.A.R.T. Goal 1 .
The word stands for Specific, Measurable, Attainable, Realistic and Timely 1 .
Specific. Determine what your health goal is. Do you want to eat healthier? Lose weight? Exercise more? All the above? Once you have chosen your goal, decide how you are going to accomplish it.
Measurable. Keeping a food journal to track your daily diet and weekly weight loss can be very helpful to your efforts. Setting a timer when exercising or simply keeping track on your watch can help you see your progress.
Attainable. Are your goals achievable based on your current physical capabilities? Are you able to safely exercise for an extended period of time? Remember to always check with your doctor before starting a new exercise program.
Realistic. Your goals need to be reasonable. Wanting to lose 20 pounds in a month is near impossible nor is it obtainable. A healthy, safe weight loss is about ¾ to 1 pound per week 2 .
Timely. Set a date for when you want to reach that goal.
S.M.A.R.T. Examples:
● I plan to lose 5 pounds in 1 month.
● I am going to engage in some form of exercise for 150 minutes every week.
● I am going to have 1 cup of vegetables with every dinner/supper meal.
2. Start small.
Maybe you need to lose 20, 30, 40, 60+ pounds. Break up that big goal into something you feel like you can reach. What sounds more attainable: I am going to lose 60 pounds in 1 year OR I am going to lose 5 pounds in 1 month? Also, 5 pounds over a 12-month period is 60 pounds! Here is an exercise example: You'd like to walk around your neighborhood block. Start by walking to the stop sign at the end of your street, every day for 7 days. You'll feel so accomplished! For the next week go to that stop sign every day and add on "up to the next stop sign". And keep going until you reach your goal of around the block. Then venture further!
3. Mix it up!
Variety is key to keep motivation up! Research some new healthy recipes. Find an exercise class at your local community center that you've always wanted to do like Zumba. Change up the scenery and head to a local park, or hiking trail. Being healthy does not have to be dull.
4. Celebrate milestones.
Did you meet your monthly goal? Reward yourself! Get your nails done, buy yourself a new workout outfit, or do whatever makes you happy. It feels so good to meet a goal and you have worked hard to meet it!
5. Seek support.
Find other people who share your same goals, work on the goals together and motivate one another to keep going. Achieving your health goals is possible. Good luck to you!
References
1. https://www.mdanderson.org/publications/focused-on-health/SMART-goals-diet-and-nutrition.h10-1591413.html
2. https://www.mayoclinic.org/healthy-lifestyle/weight-loss/in-depth/weight-loss/art-20047752
3. https://www.cdc.gov/physicalactivity/basics/adults/index.htm
This material is funded by UDSA's Supplemental Nutrition Assistance Program (SNAP).
This institution is an equal opportunity employer.