Written by Taylor Quigley, UConn Dietetics Student
It appears every time you go to the grocery store, there is another choice for a plant-based beverage. They now are shelf-stable or refrigerated. Despite having so many choices, these drinks are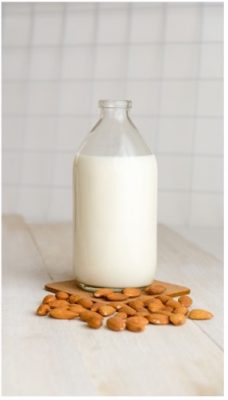 not created equal! They vary in key nutrients like calcium, vitamin D, and protein.
Some common plant-based beverage choices at many grocery stores include:
Almond drink
Soy drink
Coconut drink
Oat drink
Also seen are rice drink, hemp drink, blends to recreate the taste of milk, cashew drink, quinoa drink, flax drink, and pea protein drink
Here are some general tips for choosing a plant-based beverage:
Try to select unsweetened varieties: Some plant-based beverages come in unsweetened and original varieties. The original varieties contain added sugar. This is mostly found in beverages with a lot of sub-varieties like almond, coconut, and soy. If the unsweetened variety tastes a little bland to you, try selecting a 'vanilla' flavored one.2
Think about protein! Dairy milk is an excellent source of protein whereas most plant-based beverages do not compare. An 8oz. glass of 1% milk will pack in 8 grams of protein whereas a glass of almond beverage only has 1 gram. If you are looking to use a plant-based beverage as a protein source, choose soy beverage! Soy beverage is the only nondairy alternative recommended in the 2020-2025 Dietary Guidelines for Americans.3
Thumbs up for fortified varieties: Unlike cow's milk, plant-based beverages do not naturally contain a substantial amount of bone strengthening calcium. The calcium must be added in! Look for a 'fortified' variety that packs in 30-35% of your daily calcium with each 8oz that your drink. Cow's milk is often fortified with vitamin D — which also is necessary for bone health. A cup of cow's milk contains around 45% of your daily value for vitamin D. Most plant-based beverages only contain 10-25% Vitamin D.2
Plant based beverages are not an adequate source of nutrients for infants: Plant based milk is not a substitute for formula or breast milk.
Dairy alternative beverages are not considered a direct alternative to dairy: The Dietary Guidelines approved only fortified soy beverage as the only alternative beverage that substitutes for dairy milk for protein.4, 5
Price: Dairy alternatives are typically more expensive than cow's milk. Opt for the refrigerated version of the dairy alternative beverage rather than the shelf stable versions. Or try making your own! Link to make your own almond beverage!
Citations
McClements DJ, Newman E, McClements IF. Plant-based milks: a review of the science underpinning their design, fabrication, and performance. Compr Rev Food Sci Food Saf. 2019;18(6):2047-2067.
Cifelli CJ, Houchins JA, Demmer E, Fulgoni VL. Increasing plant-based foods or dairy foods differentially affects nutrient intakes: dietary scenarios using NHANES 2007–2010. Nutrients. 2016; 8(7):422.
Hermann, M. Plant-Based Milks. Today's Dietitian. 2021. Vol. 23. No. 5. p 26.
Ferreira, S. Going nuts about milk? Here's what you need to know about plant-based milk alternatives.2019. https://nutrition.org/going-nuts-about-milk-heres-what-you-need-to-know-about-plant-based-milk-alternatives/
Fortified Cow's Milk and Milk Alternatives. https://www.cdc.gov/nutrition/infantandtoddlernutrition/foods-and-drinks/cows-milk-and-milk-alternatives.html
This material is funded by UDSA's Supplemental Nutrition Assistance Program (SNAP).
This institution is an equal opportunity employer.