Written by UConn Dietetics student Krupa Parekh
Every year on April 22nd, Earth Day brings the world together to celebrate and express thanks to our planet. It's a perfect time for parents to educate their kids about the 3 'R's concept1   – reduce,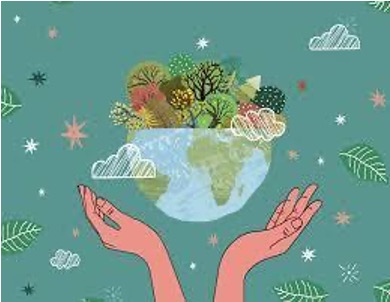 reuse, and recycle to protect our environment and reduce unnecessary waste. There are many types of crafts and activities to inspire children to recycle and repurpose waste items.
Children love science experiments! Making 'seed jars'2 is a great idea to honor Earth Day. Seeds like sunflower, peas, and beans germinate quickly in clean clear jars. That's right! Jars with no soil! Give it a try! It will be fun to let kids watch seeds sprout and grow into a flower or vegetable.
It would be fun to educate kids on making natural compost1 from home waste like peels and cores from fruits and vegetables, an old jute rug, soil, and yard waste like leaves and weeds. Parents will need to place a compost bin with a lid somewhere in the yard for kids to collect the waste for composting.
Another fun activity is to reuse a plastic bottle to construct a cute hanging garden1. Parents can help kids cut out a rectangular hole on the side of a bottle like a window. Fill up the bottle with soil and plant seeds, then hang it exposing the cut part to the light and sun. Don't forget to water!
Other ideas for parents:
Teach kids about digital technology
Turn off lights when not needed
Use reusable and washable cloth grocery bags instead of plastic ones
Make natural cleaning products using lemon and vinegar
Spend more time outdoors than playing video games indoors
Organize an Earth Day scavenger hunt to help children observe and connect with nature
These activities can teach kids how to reduce their carbon footprint, appreciate everything the Earth
gives us and help them learn steps to protect the environment.
Resources:
This material is funded by UDSA's Supplemental Nutrition Assistance Program (SNAP).
This institution is an equal opportunity employer.