Eating a balanced diet is not only crucial for your physical health but for your brain and mental health as well! Higher fruit and vegetable intake have been shown to increase happiness and well-being1. Antioxidants in plants can affect our bodies in a very healthy way at a cell level1. 
How is food connected to brain and mental health?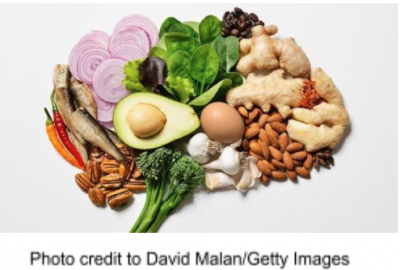 We have bacteria in our gut and that's a good thing!  The bacteria produce body chemicals that the brain uses to help keep our mental processes stable2. The Mediterranean Diet has been shown to improve both brain function and mental health3. This diet encourages plant-based foods like whole grains, vegetables, fruits, nuts, seeds, and olive oil4. Fish, seafood, poultry and low-fat dairy are eaten in moderation4. This diet is limited in red meat, sweets, fried and refined foods, processed meats, and sugary drinks4. 
Check out this veggie stir fry which is packed with nutrients to boost your brain health and mental health!
Vegetable Stir Fry     https://natashaskitchen.com/vegetable-stir-fry/ 
Ingredients: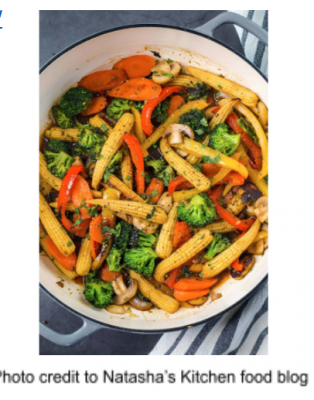 1 large carrot, sliced

2 cups medium broccoli florets

8 oz can baby corn spears, drained

8 oz mushrooms (white or brown), sliced or quartered

1 whole pepper (red, yellow or orange), seeded and sliced

2 Tbsp cooking oil , (extra light olive oil or canola)

2 Tbsp unsalted butter

3 garlic cloves, peeled and minced

2 tsp ginger, minced
Add low-sodium soy sauce or create your own sauce!
Instructions:
In a large non-stick skillet or wok, over medium heat, heat the oil. Add the vegetables and stir fry for about 3 minutes or until vegetables are crisp-tender. Add the butter, garlic, ginger and cook until fragrant.

Pour the sauce over the vegetables and stir.

Turn heat down to medium/low and cook 3-4 minutes, until sauce thickens and vegetables are desired tenderness.
Citations:
This material is funded by UDSA's Supplemental Nutrition Assistance Program (SNAP).
This institution is an equal opportunity employer.
Written by UConn Dietetics Student Brooke Bosco