Written by UConn Dietetics student Olivia Ford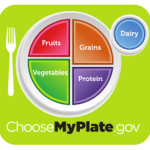 Good nutrition, physical activity and a healthy body weight are all important parts of a person's overall health and wellbeing. What is good nutrition you may ask? Good nutrition means you are eating a variety of whole foods that you enjoy like fruits, vegetables, whole grains, lean meats, plant proteins and low-fat dairy products. When we eat these foods frequently and consistently –instead of carbohydrate-heavy fast foods or processed packaged foods– we can improve our overall daily energy levels. And we can improve our long -term health and may avoid many chronic diseases! These whole foods are truly the healthiest fuel to supply to our bodies to give us the energy we need to be active. You can find out much more about
healthy eating the MyPlate way by visiting http://www.choosemyplate.gov./
Here are some tips to eating a nutritious diet:
Replace half your grains with whole grains! Swap out your usual white bread with whole wheat bread. Whole grains are packed with nutrients and fiber that can improve our gut health.
Buy frozen or canned fruits and vegetables. These have the same nutritional value as fresh fruits and vegetables but are often much more budget friendly! If you accidentally buy canned fruits in heavy syrup, just rinse them off! They still taste amazing!
It's about balance! You can still eat your favorite comfort foods that might be higher in calories and fat. The key is eating them once in a while and balancing them with healthier foods and more physical activity.
Physical activity can look different for everyone! Do you think you need to spend money by joining a gym? You do not! Here is one of the keys: Raise your heart rate by doing just about anything you love: walking with a friend; dancing to your favorite song in your living room; washing the car with the kids; playing tennis with friends, or finding a free video on YouTube to follow! Whatever it may be, choose the activities you enjoy because then you are more likely to do them more often. It is important to move your body every single day, if possible. That way your body works for you to burn the energy from the foods you eat.
*Always though check with your doctor before starting any new exercise plan.
Putting it all together; it's all about balance! If too much energy (food) is eaten over a period of a couple/few days, and not burned off or used through your activities, then it is stored as fat in the body. That is why it is so important for us to not only eat a healthy diet where calorie amounts come to us from as many nutritious and whole foods as possible (fruits, veggies, whole grains), but to be physically active as well!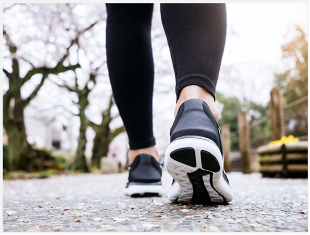 Here are some easy tips to add physical activity into your day:
Take the stairs! You've probably heard this one before and it is true!  Taking the stairs is a great way to add movement into your day and raise your heart rate a bit.
Add movement through housework. Cleaning the house can be awesome exercise and movement! Cleaning out those closets, washing or vacuuming floors, or doing some yard work like raking are all great activities!
Identify available time slots. Sometimes we have to think about and schedule our exercise or movement! Look over your week and find a few 30-minute time slots you could use for your physical activity! 
I challenge you to make it a goal to be physically active 3 times next week for about 30 minutes and add more whole grains, fruits or vegetables into one of your daily meals.
Here is a really yummy and colorful pasta salad to try!
Pasta Vegetable Salad Recipe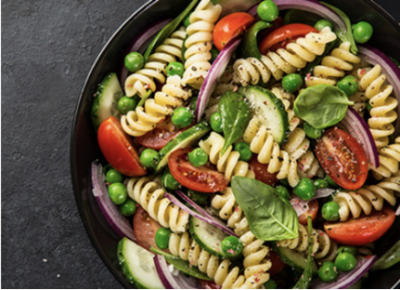 Ingredients
2 cups cooked whole wheat pasta, any shape
1 cup diced cucumber
1 large tomato, chopped
½ green pepper, medium (diced)
½ cup frozen peas, thawed
¼ cup Italian dressing
Directions
Mix all ingredients together in a medium sized bowl.
Cover and refrigerate for at least 1 hour.
Mix again before serving.
Refrigerate the leftovers.
*recipe and images from myplate.gov
Citations:
C., & U. (2016). Pasta vegetable salad. Retrieved February 26, 2021, from https://www.myplate.gov/recipes/supplemental-nutrition-assistance-program-snap/pasta-vegetable-salad
C. (2021, January 08). Healthy eating for a healthy weight. Retrieved February 26, 2021, from https://www.cdc.gov/healthyweight/healthy_eating/
This material is funded by USDA's Supplemental Nutrition Assistance Program (SNAP).
This institution is an equal opportunity employer