Written by UConn dietetics student Kate Daley
We all love snacks.  Snacks are what bridge the gap between our three meals: breakfast, lunch, and dinner!  Some people snack more than others, but one thing is for sure, snacks are an important part of any diet that allow us to satisfy our hunger throughout the day!  Whether it's sweet, savory, or anything in between, the snacking possibilities are almost endless.
It's easy to go for the bag of chips, a handful of pretzels, or a granola bar, but sometimes this isn't enough for adults with a good appetite or even growing kids. This is why it is important to remember to "pair with care" when making a snack choice so that your body gets what it needs to feel satisfied and energized! 
Here are some examples:
Try to select a chip with a "nutrition plus" whether it's lower salt, lower sugar, higher fiber. Portion out for yourself the serving size listed on the product and pair that with something like hummus or guacamole. Pairing the chips, a carbohydrate, with a protein like hummus (made from chickpeas) or healthy fat like guacamole (made from avocado) can keep you fuller and satisfied for much longer! AND you give your body even more terrific nutrients! (Like that term "nutrition plus!")

Try dipping your pretzels in a serving of peanut butter (a satisfying 2 Tbsp!) for a salty/sweet snack or pairing your pretzels with a serving (one ounce) of low-fat cheese for a savory snack.

Pair a lower sugar, whole grain granola bar with a glass of skim or 2% milk to get in more protein.
You'll find that "pairing with care" allows you to eat more balanced snacks that will keep you more energized throughout the day!  So, how do you know what foods to pair?  A good rule to follow is to choose at least two foods that are from two different food groups.
There are 5 groups, as MyPlate shows here!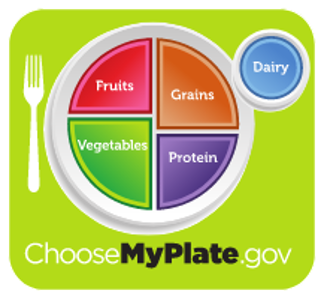 The pretzels and peanut butter would be pairing a grain (pretzels) with a protein (peanut butter).  The granola bar and milk would be pairing a grain with dairy.
I challenge you to get creative and try out some fun pairs of your own.  Here are some recipes to get you started!  Take a look at the "banana sushi" and "yogurt dip" below.  They both have a sweet and savory option.  You'll notice that these examples actually include foods from THREE food groups.  You can think of the extra group as an added health bonus!
Banana Sushi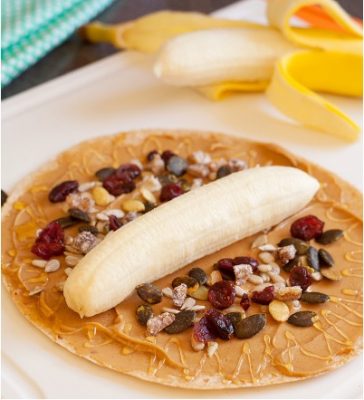 Ingredients:
1 whole-wheat flour tortilla

1 banana, peeled

2 tbsp peanut butter (or sunbutter!)

Optional: Chocolate chips, raisins, jam, or anything else you can think of! Get creative!
Directions:
Spread nut or seed butter on the tortilla in an even layer.

Place the banana near the edge of the tortilla and straighten it out as much as possible.  (Don't worry if it breaks!)

Roll the tortilla as tight as you can around the banana.

Slice into rounds and serve!
Try This!  Feeling savory?  Take the same tortilla and instead spread on hummus and place cucumber sticks on top before rolling it up for a savory option!
Yogurt Dip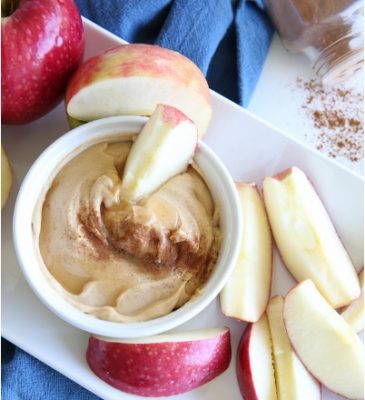 Ingredients:
¾ cup plain Greek yogurt

1 tbsp honey

1 tbsp peanut butter

For dipping: Fruit (apples, grapes, strawberries), whole wheat crackers, graham crackers, pretzels.
Directions:
Add all the ingredients into a bowl and mix until well combined.

Use it to dip your favorite fruit or cracker!
Try This!  Feeling savory?  Take the same yogurt and instead of honey and peanut butter, add a tablespoon of ranch seasoning (the kind sold in a packet!) for a savory option!  Use to dip fresh carrot sticks, broccoli, or whole wheat crackers.
This material is funded by UDSA's Supplemental Nutrition Assistance Program (SNAP).
This institution is an equal opportunity employer