Written by UConn Dietetics Student Lilly Tartsinis
Who doesn't love the holidays? The decorations, the cheer, the family, and the food! And oh the food! The holiday goodies and traditional recipes! It is possible to forget how much you are snacking and eating during the holidays, so here are some tips that may be helpful for when you're surrounded by the food aromas, colors and textures of the Season! COVID has changed nearly all our plans for gatherings at this time, but keep thinking Holidays 2021! 
The appetizer table! Visit it, but don't spend the whole night there! Standing near a table full of food can lead you to eating quite a few calories without realizing it. Grab a plate, grab a couple items (veggies included!) and go find friends and family to talk to in a different room.
Be mindful! If you know certain foods and treats are your "weaknesses", take one and enjoy it! Completely restricting yourself of the foods you love can lead to you binging on them later on, so indulge a little, and savor!
Carry a drink with you! Having one hand full makes it more difficult to grab a bunch of appetizers, so it can be a helpful little reminder to eat slowly and be mindfully!
Drink some water! Your body has funny ways of telling you when it is thirsty, so drink some water first to determine if you are hungry, or actually just thirsty!
Eat before you go to the party! Showing up to a party on an empty stomach leads you to eat more and to eat faster at the party. Instead, eat some fruits or vegetables, and a small protein snack like peanut butter on bread or a small piece of cheese and some whole grain crackers to make your tummy happy and pleasantly full before you are faced with all the party choices!
Here is a healthy and festive recipe you may want to try! Bringing this to a gathering means you would know about one healthy appetizer to enjoy!
Beet Hummus with Blue Cheese and Walnuts
Serves 8 (Serving size is about 3 Tbsps)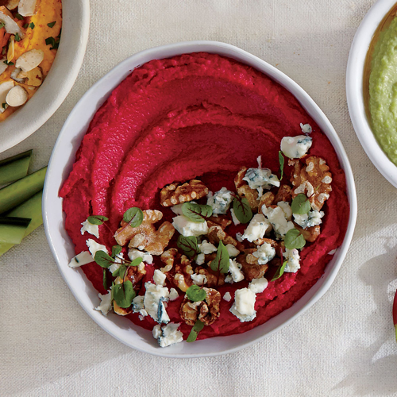 Ingredients
1 Tbsp tahini (roasted sesame seed paste)
1 Tbsp fresh lemon juice
1 Tbsp extra-virgin olive oil
1 (15oz) can unsalted chickpeas, rinsed and drained
¼ tsp kosher salt
3 Tbsp water
1 garlic clove
1 3oz beet, peeled
½ tsp honey
¼ tsp kosher salt
1/8 tsp black pepper
3 Tbsp crumbled blue cheese
5 Tbsp chopped toasted walnuts
1 Tbsp microgreens (optional)
Directions
Combine tahini, lemon juice, olive oil, chickpeas, ¼ tsp kosher salt, water, and garlic into a food processor.
Wrap the peeled beet in parchment paper, and microwave at HIGH for 3 minutes or until the beet is tender. Let the beet stand for 5 minutes, and then cut into 4 pieces.
Add the beet, honey, rest of kosher salt, and black pepper to the food processor with the chickpea mixture, and process until smooth.
Pour hummus into a bowl, and top with blue cheese, walnuts, and microgreens!
Serve hummus with carrots, celery, or even some whole grain crackers!
References:
https://www.myrecipes.com/recipe/beet-hummus-blue-cheese-walnuts
This material is funded by USDA's Supplemental Nutrition Assistance Program Education (SNAP-Ed).
This institution is an equal opportunity provider.