Written by UConn Dietetics Student Brooke Bosco
There's nothing like a cool, refreshing treat to help you beat the summer heat! Healthy, homemade frozen fruit pops are super easy to make with five ingredients or fewer. By making your own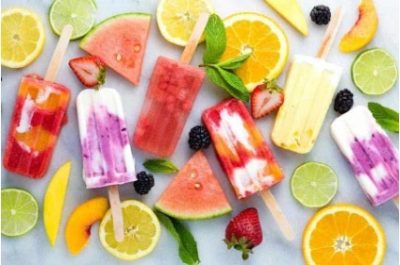 pops, you can avoid the added sugars often found in store-bought pops and benefit from important nutrients found in fruit! It also allows you to add other food groups. You can add milk, yogurt, or whole grain cereal to pack in more nutrients!
Try different fruits!
Berries, bananas, peaches, watermelon, mango, pineapple, or kiwi work well for homemade frozen pops. Use fresh, canned, or frozen fruit – any form will work! You can puree your fruit with lemon or lime juice to add some acidity and make the texture less icy. Also, adding 100% fruit juice like orange, apple, or grape juice helps the pops to not melt as fast.
Add some creaminess and texture!
Adding milk or yogurt to your frozen pops gives you a boost of protein, calcium, and vitamin D along with a creamy texture! You can also use plant-based milks or yogurts, such as almond milk or soy-based yogurt. Try adding granola or whole grain cereal to add fiber and a crunchy texture! Granola can have a lot of added sugar and fat, so be sure to read the Nutrition Facts label.
Use a simple mold
You can buy plastic molds, or you can simply use plastic or paper cups. If using cups, top them with foil after adding your ingredients. Then, insert wooden pop sticks through the foil and freeze. Forget the molds when making a frozen banana treat! Frozen bananas have a softer texture, so all you need to do is insert the pop sticks into the cut bottoms of the bananas and freeze.
How long to freeze your pops
Depending on the ingredients, it can take about 4 to 6 hours for your summer treats to freeze. Overnight freezing may be the best way to go, and you will have something to look forward to the next day!
Kid-friendly tip: To prevent the inevitable sticky mess with melting pops, cut a small slit in the bottom of a cupcake liner and place it through the stick at the bottom of the pop. This will help "catch" any dripping juice!
Frozen Banana Cereal Pops – Makes 8 Pops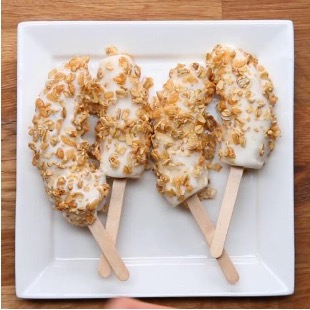 Ingredients:
¾ cup non-fat yogurt
2 cups granola or whole grain cereal
4 bananas, peeled and cut crosswise in half
8 wooden pop sticks
Directions:
Place yogurt and cereal in separate shallow bowls.
Insert pop sticks through cut side of bananas.
Dip bananas in yogurt, then roll in cereal to coat. Transfer to waxed paper-lined baking sheets.
Freeze until firm, about 1 hour. Transfer to airtight freezer containers or freezer-safe plastic bags.
Article adapted from: https://www.jessicagavin.com/make-your-own-homemade-fruit-popsicles/
Recipe adapted from: https://www.tasteofhome.com/recipes/frozen-banana-cereal-pops/
Banana pop photo retrieved from: https://tasty.co/recipe/yogurt-granola-frozen-banana
 This material is funded by UDSA's Supplemental Nutrition Assistance Program (SNAP).
This institution is an equal opportunity employer.