Written by UConn Dietetics Intern Isabella Pratt
The topic of gut health has been rising in popularity over the past few years and for good reason! Our gut microbiome is full of bacteria (both good and bad) that are the basic makeup of our health. There is so much more to learn about gut health. What we do know is that our gut bacteria are affected by our environment; like what we eat, how active we are, what medication we take (like antibiotics), and even the way we were born. 
Why is it important to have a healthy gut?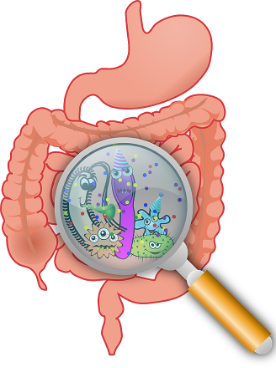 It is important to have a healthy gut because most diseases begin in the gut and if you have a strong population of healthy bacteria you will have stronger immunity and reduced chances of getting sick! Did you know that 70% of the body's immune system live in the gut? The more "good" bacteria you have, the stronger defense system you have. It has been found that the healthiest people eat foods that support good bacteria growth.
What should I be feeding my gut to have more "good" bacteria?                                        
Foods with soluble and insoluble fiber! Did you know that 95% of Americans are currently undereating fiber? Soluble fiber foods help you to feel full, may help lower high (undesirable) cholesterol and may also help to control blood sugars during the day.
Insoluble fiber foods include those that give your stool bulk:
Whole wheat flour; wheat bran (cereals); nuts; beans (black beans, garbanzo beans, lentils, green beans); cauliflower, oatmeal, whole grains, breads, pastas, and rice!
The key is consuming a VARIETY of foods and plants will provide you with the most diverse number of "good bacteria" for your healthy gut!
How much fiber should I be eating for a healthy gut?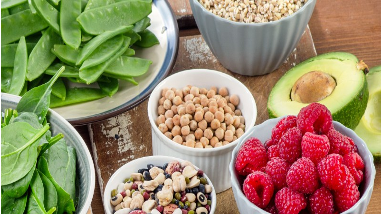 25g/day for women 19-50 & 21g/day for women 50+
38g/day for men 14-50 & 30g/day for men 50+
For Example:
Here is how a woman can get 25g of fiber in a day!
Breakfast:  Bowl of whole grain cereal topped with some fresh berries (7-8g)
Lunch: Tuscan Soup with veggies/beans with a piece of whole grain bread (9-10g)
Snack: Carrots and Hummus (4-5 g)
Dinner: Tacos with chicken, fajita style veggies, guacamole, salsa, and lettuce served on a whole grain tortilla (4-5g)
In total: You reached 28g of fiber for this day!
IMPORTANT TIP when adding more fiber into your diet:
Always make sure you are drinking plenty of water to keep things moving when you are increasing your fiber intake!
Here's an easy and yummy vegetarian way to add fiber to your diet!
Easy 20-minute Bean Chili Recipe
_____________________________________________________________________________
Ingredients:
1 medium yellow onion, diced
1 bell pepper, diced
1 cup frozen corn kernels
1 15oz can of black beans, rinsed and drained
2 15 oz cans of kidney beans, rinsed and drained
32oz tomato sauce
1 cup of water
1 tbsp chili powder
Salt to taste
Directions:
Heat oil in a large saucepan over medium-high heat. Add peppers and onion; cook 5 minutes or until onion is tender, stirring occasionally.
Add remaining ingredients to saucepan; stir to combine. Bring to a boil. Reduce heat, cover and simmer for 15 minutes, stirring occasionally.
Citations:
Dietary Reference Intakes -Micronu – Nal.usda.gov. (n.d.). Retrieved October 31, 2021, from https://www.nal.usda.gov/sites/default/files/fnic_uploads/1-20.pdf.
Mayo Foundation for Medical Education and Research. (2021, January 6). How to add more fiber to your diet. Mayo Clinic. Retrieved October 31, 2021, from https://www.mayoclinic.org/healthy-lifestyle/nutrition-and-healthy-eating/in-depth/fiber/art-20043983.
Quigley E. M. (2013). Gut bacteria in health and disease. Gastroenterology & hepatology, 9(9), 560–569.
This material is funded by UDSA's Supplemental Nutrition Assistance Program (SNAP).
This institution is an equal opportunity employer.