Written by UConn Dietetics Student Bonnie Caulfield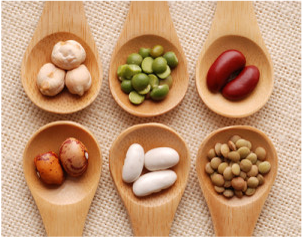 Are you thinking about transitioning from a meat-based diet to a plant-based diet? Or maybe just mixing in some plant-based protein sources to your current diet? Whether you eat solely plant-based or are looking to make a small change, plant-based proteins are beneficial in more ways than one!
Are plant-based proteins healthier than animal proteins?
Animal products— like full-fat dairy cheese and beef— are typically high in saturated fats. Plant proteins have no fats. Saturated fats have been linked to an increased risk of cardiovascular disease and the American Heart Association recommends that no more than 5% to 6% of total daily calories should come from saturated fat1. That's easily obtained in an 8oz serving of steak. The addition of cheese, full fat milk or full fat yogurt to your day's diet would add animal proteins, also. A plant-based diet by comparison offers up far fewer saturated fats, plus heart-healthy fiber and plenty of vitamins and minerals. A typical vegan diet is shown to contain just about 5% to 6% of total calories from saturated fat2.
Plants contain compounds called phytochemicals and fiber which are not present in animal food. Phytochemicals fight inflammation in our bodies and can help to prevent certain diseases.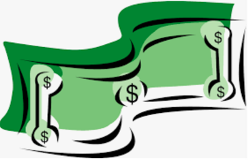 Eating recommended amounts of fiber per day helps to promote gastrointestinal health. Nearly 90% of US adults and children do not meet the minimum requirement of fiber intake2.
Overall, reducing your intake of saturated fats from animal foods and increasing the amount of fiber and phytochemicals in your diet from plant foods will be beneficial to your health! What about the price?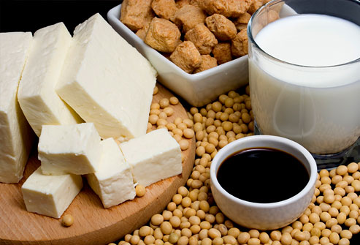 If the health benefits aren't enough to convince you to swap out some meats for plants, maybe the price will be! Meat tends to be a bit more expensive than good sources of plant protein. Typically, sirloin steak costs about $10.00 per pound (16 oz) and a recommended serving is 3-4 ounces, so that's about $2.50 per serving of meat. On the other hand, a one-pound bag of lentils is usually around $2.00 and contains a whopping 14 half-cup servings3. Many people think that a big red steak is the best source of iron and protein. What they don't know is that lentils provide iron, protein, AND phytochemicals on top of that.
That's a lot more bang for your buck! Plenty of other plant options include edamame, lentils, beans, peas and firm tofu which can be chunked into soups, stews and a stir-fry.
Check out this easy and yummy recipe for Black Bean Tacos from thekitchen  https://www.thekitchn.com/recipe-10-minute-black-bean-tacos-233042
Ingredients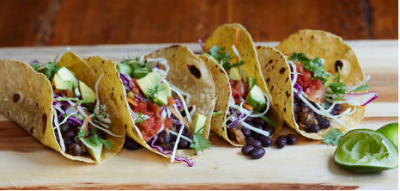 For the tacos:
1 tablespoon olive oil
1/2 large onion, diced
1 1/2 teaspoons chili powder
1/2 teaspoon ground cumin
1/4 teaspoon kosher salt, plus more as needed
1 (15-ounce) can black beans, drained and rinsed
1/4 cup water
8 corn tortillas
For serving:
1 bag cabbage slaw or shredded cabbage
1 medium avocado, sliced
Salsa
Lime wedges
Instructions
Heat the oil in a large skillet over medium-high heat until shimmering. Add the onion and cook, stirring occasionally, until softened, about 2 minutes. Stir in the chili powder, cumin, and 1/4 teaspoon salt. Add the beans and water.
Cover the pan and reduce the heat to maintain a simmer. Cook for 5 minutes, then uncover and use the back of a fork to partially mash the beans, leaving about half whole. If there's any remaining water in the pan, simmer the mixture uncovered until evaporated, about 30 seconds. Taste and adjust seasoning as needed.
Meanwhile, heat the tortillas. Stack them on a microwave-safe plate and cover with a damp paper towel. Microwave in 30-second bursts until warm.
Fill the tortillas with the black bean mixture and top with slaw or cabbage, avocado, and salsa. Serve with lime wedges.
Interested in trying out some new plant-based recipes packed with protein? Check out the recipes below or go to https://snaped.fns.usda.gov/nutrition-education/recipes to find more!
Citations:
Hever J. (2016). Plant-Based Diets: A Physician's Guide. The Permanente journal, 20(3), 15–082. https://doi.org/10.7812/TPP/15-08
"Saturated Fat."heart.org, www.heart.org/en/healthy-living/healthy-eating/eat-smart/fats/saturated-fats.

 

Walmart Grocery, walmart.com/grocery/. Accessed on March 3, 2021
This material is funded by USDA's Supplemental Nutrition Assistance Program (SNAP).
This institution is an equal opportunity provider.