Written by UConn Dietetics Student Nicole Glick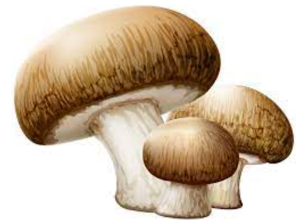 Whether you are vegan or vegetarian looking to get creative with your meals or an omnivore looking to cut back on your meat consumption, mushrooms can be your one-way ticket to a nutritious and delicious meal! For a while, mushrooms were not getting the attention they deserved, but in recent years they have gotten a lot of press for their versatility and nutritional benefits! Furthermore, the 2020-2025 Dietary Guidelines for Americans have classified mushrooms as a vegetable, and in case you didn't know, the recommendation for adults is 3 cups of veggies every day.
You can do it!
In addition to their savory flavor and "meat-like" texture, mushrooms contain many nutrients that are essential for us to be our healthiest. These include: B-vitamins, potassium, fiber and Vitamin D.
B-Vitamins
B-Vitamins help us ENERGIZE! They help us take the food we eat and turn it into fuel!
Potassium
Potassium helps our muscles to work properly so we can move throughout our day. Remember our heart is a big muscle too! Just 5 medium white button mushrooms have 8% of our Daily Value of Potassium! Chop 'em up and toss in a salad, or sauté them in olive oil for those heart healthy benefits.
Fiber
Fiber keeps our digestion in check and helps to keep us regular. It also plays an important role in the feeling of fullness and satisfaction after a meal, which is helpful for maintaining a healthy weight.
Vitamin D
Vitamin D plays a role in keeping your bones strong by helping you to absorb the calcium you eat. It also plays a key role in protecting your immune system. Looking for a little Vitamin D boost during this cold New England Winter? Look no further than mushrooms! Pick up a pack of mushrooms at your local farmer's market or grocery store then set the mushrooms on a sunny windowsill for 15-20 minutes and the Vitamin D content will skyrocket! Some studies have shown that after sun exposure mushrooms will contain nearly a full daily dose of Vitamin D 2.
Try out the recipe below to add more mushrooms into your diet!
20 Minute Mushroom and Veggie Stir-Fry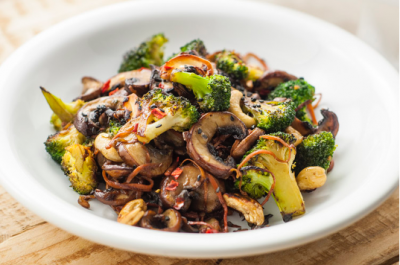 Ingredients
Vegetables
1 cup broccoli cut into 1-inch pieces
1 cup green/orange/yellow or red pepper (sliced thin)
1 cup chopped yellow onion
1 cup shredded carrots
1 pack portobello mushrooms (sliced thin)
Sauce
2 tsp chopped ginger
2 Tbsp chopped garlic
2-3 Tbsp sugar or honey
3-4 Tbsp soy sauce
2 Tbsp lime juice or white vinegar
For Serving
2-3 cups cooked brown rice
Cilantro for topping the stir-fry
Directions
Cook brown rice according to package instructions.
Wipe down portobello mushrooms with a damp cloth to remove residual dirt. (*Remember to let them sit in a sunny windowsill for 15-20 minutes if you want that Vitamin D boost!)
Prepare the sauce by adding all the ingredients together into a small bowl and mixing. Adjust flavor as needed.
Combine sliced mushrooms and marinade in a large  shallow dish (or Ziploc bag) and let sit to marinade for  10 minutes while you prep the other veggies.
Once the mushrooms have marinated, warm 1-2 tbsp cooking oil in a large skillet and then add portobello mushrooms. Only add  as many mushrooms that will comfortably fit in the pan. You may have to cook them in a couple of batches.
Once cooked (about 5 minutes) remove mushrooms and set aside.
Add in the onion, broccoli, carrot and pepper and a dash more cooking oil and sauté the veggies on medium heat for 10 minutes.
Add the mushrooms back in along with the remaining sauce and mix.
Remove from heat and serve over brown rice topped with cilantro for extra flavor.
Citations:
USDA (2020). Dietary Guidelines for Americans 2020-2025. https://www.dietaryguidelines.gov/sites/default/files/2020-12/Dietary_Guidelines_for_Americans_2020-2025.pdf

Cardwell, G., Bornman, J. F., James, A. P., & Black, L. J. (2018). A Review of Mushrooms as a Potential Source of Dietary Vitamin D. Nutrients, 10(10), 1498. https://doi.org/10.3390/nu10101498
This material is funded by UDSA's Supplemental Nutrition Assistance Program (SNAP).
This institution is an equal opportunity employer.